Motorcycle - Vehicle Accidents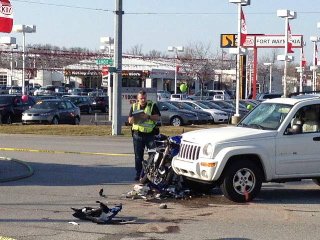 Anyone who has ever seen the aftermath of an accident involving a car or truck and a motorcycle knows that the collision has been far more damaging and dangerous for the motorcycle rider than the car driver.
This is especially clear in an accident in August 2012 involving a Jeep and a motorcycle in Fort Wayne, Ind. Debris and parts of the motorcycle are strewn all over the roadway. The motorcycle appears to be crushed underneath the Jeep's right bumper. Meanwhile, the Jeep looks like it has been only slightly damaged on the right front, but it appears to be drivable.
What is most important, however, is the condition of the drivers and passengers involved in this collision. The motorcycle passenger, a 20- year-old Fort Wayne woman, is dead. The driver, a 20-year-old man, was hospitalized in serious condition. Neither were wearing helmets at the time of the crash. Meanwhile, the driver of the Jeep, a 57-year-old woman, was not seriously injured.
Motorcycle fatalities in the United States are coming under greater scrutiny, mainly because these deaths are increasing. A story on PBS reported this summer that motorcycle deaths increased from 3,200 in 2002 to 4,500 in 2010.
According to the National Transportation and Safety Administration, the numbers are alarming: Fewer than 3,000 Americans died in motorcycle crashes in 1998, but the number had grown to more than 5,000 by the 2007. Meanwhile, car fatalities fell from about 31,000 U.S. residents to roughly 28,000 during the same years. Why the increase in motorcycle fatalities?
Researchers for the federal government have come up with various explanations for the rise. One is that cars and trucks became heavier during those years. The SUV grew more popular, although smaller cars are once again on the rise because of the high price of gas. As illustrated by the accident above, when a car or truck comes into contact with a motorcycle, the driver of the car is more likely to survive than the driver of the motorcycle. Another reason is that motorcycle ownership and ridership have increased -- among men and women of all ages. And finally -- and most important -- many states have dropped mandatory helmet laws, mainly at the request of the motorcycle riders themselves and the organizations that lobby on their behalf, the Motorcycle Industry Association and the Motorcycle Riders Foundation. Studies have shown that riders who come into contact with cars or trucks are far less likely to survive if they are NOT wearing a helmet.
Anyone who has ever been in an accident knows how quickly events unfold beyond our control. In the accident cited above, the vehicle driver failed to yield to the oncoming motorcycle when making a turn. The motorcycle and Jeep collided head on.
What should you do if you are in a motorcycle accident or any other accident? First, call the police, even if your injuries seem minor, and your motorcycle has not incurred significant damage. Your injuries might not seem readily apparent, but you may discover later that you did, in fact, suffer a concussion, back injury or worse. It's always a good idea to write down all the details you remember: Where were you? Where was the other vehicle? What time of day was it? How did the accident occur? Was anyone else injured? Be sure to get copies later of the accident report written by police.
Emergency vehicles might be called to the scene. It is important not to turn down medical care. You should allow yourself to be taken to a local emergency room, if only to be absolutely certain about the extent of your injuries. Obtain copies of the ER doctor's report of your condition. If you have suffered cuts, scrapes, "road rash," broken bones, etc., you should take regular photos and/or video images to document your healing process.
Be careful when discussing the accident with anyone other than your loved ones. For example, if you are contacted by an attorney you did not hire to represent you, it is wise not to comment. If an insurance agent contacts you, be sure to have your attorney present.
Robert Kreisman has successfully represented injured plaintiffs in motorcycle accidents for more than 40 years. If you or someone you love has been injured or killed in a motorcycle accident, please call us for an immediate free consultation. Please call us 24 hours a day at 312.346.0045 or toll free 800.583.8002 for a free and immediate consultation, orcomplete a contact form online.