Chicago Nursing Home Abuse Lawyer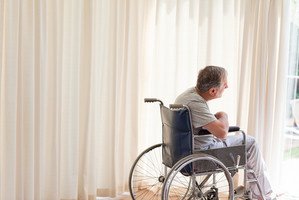 As members of the baby boom generation become senior citizens, a larger portion of our population will need nursing home care. Many studies indicate, however, that most nursing homes will be unprepared for the expected surge in the numbers of residents.
Currently, studies show that 30 percent of all nursing homes have been found to have some form of elder abuse. Now a new study by the American Association of Justice (AAJ) provides statistics about the widespread problem of nursing home abuse. The AAJ reports that 90 percent of the nursing homes in the United States have staffing levels that are too low to provide adequate care to residents. It is recommended that nursing home residents receive 4.55 hours per day of direct nursing care. However, the AAJ report says residents actually receive 3.7 hours per day of nursing care.
The shortfall is due largely to staffing problems. The AAJ reports that a certified nursing assistant's annual salary is only $23,193 per year. Often nursing home workers are untrained, unskilled and overworked. The very low pay offered to them makes it difficult to attract and keep experienced, caring workers. Even as more nursing home workers are needed, staffing is actually falling. According to the AAJ report, nursing home assistants have seen their working hours cut by 16 percent in recent years.
Staff cuts are no doubt an effort to boost profits in what is a huge industry. An estimated 1.4 million people currently live in nursing homes across the nation. In 2006, state and federal financing of the nursing home industry totaled $75 billion. Nursing home residents and their families paid $34 billion for their care in 2001, according to the AAJ report.
And even as nursing staff lose hours and pay, the top managers in the nursing home industry are earning very high salaries. One operator of a 314-bed nursing home in New York paid herself a $1.2 million annual salary. Similarly, the salary of a Genesis HealthCare Corp. CEO was paid $1 million. Meanwhile, U.S. News & World Report uncovered $3.4 billion in suspicious accounting transactions in 2000.
Apparently for-profit nursing homes are more deficient in the care they provide residents than the non-profit homes. The AAJ report said the for-profits have 31 percent more reports of deficient care than the non-profits. Even as complaints of abuse, neglect and exploitation of nursing home residents is widespread – there were more than 20,000 in 2003 – the AAJ report states that only one in 14 incidents of elder abuse is ever reported to authorities.
Elder abuse can take many forms, and it is essential that visiting relatives and friends be vigilant and able to recognize signs of it. Nursing home abuse can take the form of assault, battery or rape. Some nursing home residents are forcibly restrained, either by use of straps and ties or by the use of psycho-pharmaceutical medication. Emotional abuse may include insults, intimidation and efforts to frighten the nursing home resident into not reporting abuse. Some nursing home residents are neglected; Their food, water or medication is withheld, or their bedding or clothing are not changed. In the elderly, a bed sore that is left unattended can be very dangerous and even fatal.
If you are visiting an elderly parent or relative, obvious signs of abuse might be bruises, burns, loss of hair, torn clothing, sudden weight loss, poor hygiene or the smell of urine or feces. The nursing home resident might seem listless, withdrawn or depressed. If you notice any of these signs, you should contact the nursing home management immediately. If you feel your complaints are not handled properly and expeditiously, you should hire a nursing home abuse lawyer.
At Kreisman Law Offices, we are keenly aware of the hardship that may arise in a case of nursing home abuse or neglect. If you have reason to believe that your loved one has been injured, abused or neglected at an Illinois long term facility, please call us as soon as possible.
Bob Kreisman of Kreisman Law Offices has over 40 years of experience in handling and trying nursing home abuse cases and medical malpractice in the Chicago, Illinois area. Kreisman Law Offices has the knowledge and resources to obtain justice for you and your loved ones and hold accountable those responsible for their actions against the elderly and infirm. For a free and immediate consultation contact Kreisman Law Offices at 312.346.0045 or 800.583.8002, or fill out a contact form online.