T-Bone Auto Accidents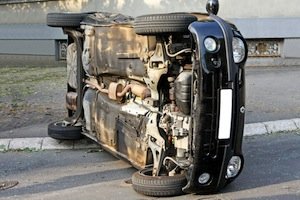 T-Bone auto crashes happen when least expected. These accidents occur when a driver of a motor vehicle strikes another from the side. They are common occurrences at intersections controlled either by stop signs or stop lights. Most times in T-Bone crashes, there are differing stories by drivers and witnesses about how the crash took place. Sometimes even the police are not able to determine the cause or fault.
Some T-bone crashes take place at uncontrolled intersections where Illinois motor safety law mandates that the first vehicle to arrive would have the right-of-way, but that's not always easy to recognize. Another Illinois safety law would make the driver to the right of the intersection the driver to proceed first. But the essence of a T-bone crash is that for whatever the reason, one driver collides on the side of another driver's vehicle usually resulting in potentially serious injuries the drivers and passengers of both vehicles.
The T-bone crash is a common occurrence. Usually these collisions can be avoided if driver's are diligent about the approach to intersections which where most of these crashes take place. Some describe the T-bone crash as a broadside crash. The duty of Illinois drivers is to follow the Illinois Motor Vehicle Safety Laws. Yielding the right of way at an intersection is required. It is also important to acknowledge and obey all stop signs and traffic signals. Some Chicago area drivers are accustomed to rolling through a stop sign which may endanger another approaching vehicle and could result in one of these dangerous T-bone crashes.
What's more is that every Illinois driver should be driving defensively, meaning looking both ways before entering an intersection. This would be true whether the driver has the green light or has completely stopped at a stop sign at the intersection. One never can be sure that another driver is aware of your vehicle's location or direction. Therefore, Illinois drivers need to be always watching carefully for other oncoming or approaching cars, trucks, bicycles, motorcycles, vans, buses and pedestrians entering the intersection.
Another common cause of T-bone accidents occurs when a driver is making a left turn at an intersection. Some intersections have turn lanes for left turning trucks, cars, buses and vans. Many intersections have nothing that would prohibit a left turn; however, the turning vehicle driver must allow the right of way to all approaching vehicles. That means that a driver in the process of making a left turn at an intersection must have his or her left turn signal activated, must be in the correct vehicle position to make that turn and must allow all traffic remain clear of the path of the turn. In a case where a turning truck did not yield the right of way to a client of our firm, the impact was severe and the damage to our client's car was so serious that it broke out all of the windows and caused multiple lacerations to the driver's young son who was in a car seat in the back of the car. This little boy needed more than 30 sutures to close his facial cuts which unfortunately were permanent disfiguring scars to his young face. After lengthy discovery, involving depositions of witnesses, police, the drivers of the car and truck and medical providers who treated the boy, the case resolved before the beginning of the jury trial. The mother and father of the boy were pleased with the result, which was so devastating to this family.
Kreisman Law Offices has over 40 years of experience vigorously representing individuals and families who have been injured or killed in T-Bone crashes and other automobile, bus, van, bicycle and truck crashes. It is important to contact Kreisman Law Offices as soon as you can in order that their staff can move immediately to preserve and gather evidence. Call our offices in Chicago for a free consultation at 800.583.8002 or 312.346.0045 or contact us at bob@robertkreisman.com or fill out a contact form online to learn more and schedule a free consultation.
Kreisman Law Offices continues handling personal injury, medical malpractice, nursing home abuse cases, birth injuries and wrongful death matters throughout Cook County, Chicago and its surrounding areas.