SUV Rollover Accidents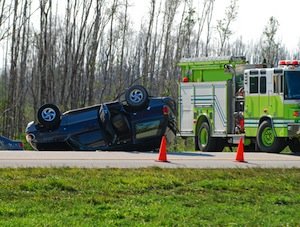 In a nationwide survey, four in ten residents of the United States said they felt safer in a sport utility vehicle (SUV) than in a regular passenger car. The same survey showed that 39 percent of the respondents said they felt more powerful in an SUV than in a normal four-door vehicle. Unfortunately, however, SUVs are much more likely to roll over than other passenger vehicles, according to the National Highway Traffic Safety Administration (NHTSA). For an experienced Chicago lawyer, call Robert Kreisman of Kreisman Law Offices for immediate, expert legal assistance in vehicle rollover incidences.
In fact, the NHTSA says, SUV rollovers account for 37 percent of fatal car crashes, compared to the rollover rate for regular passenger cars, which cause only 15 percent of the nation's rollovers. More than 280,000 rollover accidents are recorded annually, resulting in the loss of more than 10,000 lives, the NHTSA said.
Meanwhile, the nationwide Insurance Information Institute reported in 2006 that SUVs had the highest fatality rate of any type of cars. In that year, SUVs were involved in rollover crashes at 7.77 per 100,000 registered vehicles. Meanwhile, vans had the lowest rate of rollovers -- 3.10 per 100,000 vehicles on the road. The institute reported that the rollover rate was 3.18 for passenger cars. Clearly, SUV rollover accidents are much more common that rollover incidents for regular cars.
Kreisman Law Offices has handled SUV rollover crashes and automobile product or design defect cases for more than 40 years. If you have been involved in a serious automobile accident, our vehicle accident attorneys and rollover experts will carefully evaluate all the elements of the crash, including its cause, investigate the circumstances, potential design defects, and locate and interview all witnesses.
What causes the high incidence of SUV rollovers? Most experts will tell you that rollover accidents are related to the vehicle's stability when turning. The stability is determined by the relationship between the center of gravity and the distance between the left and right wheels. A high center of gravity can make a vehicle unstable when making fast turns or sharp changes of direction.
The NHTSA found that many fatal 4WD rollovers take place during the evenings and on weekends. The drivers are most frequently men under the age of 25; too often, alcohol is a factor in these accidents. Often the victims in these incidents are ejected from their vehicles, meaning that they were not wearing their seatbelts. Kreisman Law Offices lawyers handle Illinois rollover cases. One client can attest that his survival in his rollover crash was credited to the use of his seatbelt. His SUV vehicle was hit by a van at an intersection and rolled over several times, resting on its roof. He survived serious injury in this crash because he was seat-belted.
How can drivers avoid SUV rollovers? One thing the NHTSA recommends is for drivers to be careful on rural roads, which often have uneven surfaces and tight curves that can destabilize the SUV. Drivers should also avoid panic steering, which leads to over correcting and subsequent rollovers. If a vehicle goes off a paved roadway, drivers are advised to gradually reduce the speed and ease the vehicle back to the roadway when it feels safe to do so.
Another factor that contributes to SUV rollover is improper loading. When an SUV is overloaded with passengers, luggage or other items, it becomes unstable. Any extra weight, which typically sits above an SUV's center of gravity, will cause the vehicle to tip easily, according to the NHTSA.
Many SUV rollover accident crashes could be avoided if a number of safety design defects were remedied. By redesigning a vehicle, manufacturers could ensure that drivers and passengers are protected from serious injuries or death as a result of a vehicle rollover accident. Areas where vehicles might lack proper safety measures include:
Vehicle roofs might not be strong enough to prevent collapse and crushing in the event of a rollover;
Seatbelts that do not automatically tighten during a rollover accident;
Door latches might not be strong enough to hold the door shut during the rollover crash, causing passengers to be ejected from the vehicle; or
The vehicle is top-heavy and prone to over-correction by the driver, which makes a rollover even more likely to occur.
If you or a loved one has been involved in a rollover accident, contact Kreisman Law Offices at 312.346.0045 or toll free 800.583.8002 for a free and immediate consultation, or fill out our contact form online. We are here to assist you and your family so that the responsible parties are held accountable for the injuries and death to passengers of SUV rollover accidents.