Workers' Compensation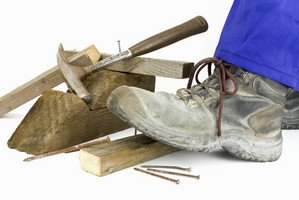 In Illinois, workers are protected by the Illinois Workers' Compensation Act. This law allows for any employed worker to bring a claim in the Illinois Industrial Commission (ICC). Compensation is mandated by Illinois law. If you are a Chicago railroad employee, the federal statute under the Federal Employers' Liability Act (FELA) governs your right to compensation for work-related injuries and illnesses.
Kreisman Law Offices has more than 40 years of experience in dealing with workers' compensation claims in Chicago and Illinois. We will walk you through, step-by-step to make sure that you receive the benefits you need, get your checks on time, and collect all that you're entitled to. It's very important to contact us as soon as you have been injured so that your rights can be protected.
Anyone who has been injured at work qualifies for workers' compensation. Under Illinois workers' compensation laws, you are entitled to temporary total disability payments. These payments should be based on your current average weekly wage. In addition, all of your medical bills are paid.
It is important to have a qualified attorney representing you in your workers' compensation claim. If you are not able to return to your job in the future because of your injury, your employer is obligated to provide compensation for you. However, you need to make sure that this compensation adequately accounts for your future needs because once it has been determined and paid out, there is no more room for negotiation. A Chicago workers' compensation attorney from Kreisman Law Offices can help you negotiate your workers' compensation claim before it's too late.
Also, if you were injured at work while using a product, you might also have a product liability claim against the product's manufacturer. Kreisman Law Offices can review your case and determine if there is an additional claim for your injury.
Kreisman Law Offices is experienced in handling Illinois workers' compensation claims and obtaining the best results for you. If you have been injured at work and are interested in pursuing a workers' compensation claim, call Kreisman Law Offices at 312.346.0045 or 800.583.8002 for a free and immediate consultation regarding your claim, or fill out a contact form online.