Scaffolding Accidents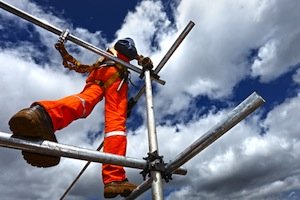 Construction workers regularly use scaffolding or supports on both exterior and interior construction sites, whether when shingling roofs, installing windows and framing, tuck-pointing masonry, or painting. These structures are assembled for workers, but are temporary. Many construction workers and other passer-bys are injured in scaffolding accidents as a result of faulty scaffolding or improperly assembled scaffolding. It has been estimated that scaffolds are responsible for as many as 65% of all construction site injuries.
These scaffolding accidents can occur if the scaffolds are incompletely assembled or when a portion of the scaffold has collapsed. Therefore, it is imperative that construction crews assemble scaffolding in a safe manner, according to its design and on level ground to prevent falls and collapse.
According to the Bureau of Labor and Statistics (BLS), most scaffolding accidents are attributable to, (1) plank or support failings; (2) construction workers slipping on a scaffold; or (3) construction workers being struck by falling scaffolds or objects that fell from the scaffolds. In order for scaffolding supports to be safe for construction workers, it needs to be constructed according to the construction safety standards established by the Occupational Safety and Health Administration (OSHA).
Construction workers need to be trained on not only how to construct and assemble scaffolding so it conforms to OSHA standards, but also how to safely work on and around scaffolding. Unfortunately, in many cases construction workers haven't received appropriate training on scaffolding safety, which can result in scaffolding injuries.
There are a variety of scaffolds that take on different sizes and shapes. A scaffold could be a platform supported on wood blocks. It could be the more complex configuration taking innumerable shapes and sizes depending on the job that the construction workers are tasked to do. Painters, window washers, masonry workers, carpenters and electricians use scaffolds. Some companies rent the scaffolding equipment for assembly at the jobsite. Other specific construction companies own their own scaffolding equipment that they use over and over. The potential for injury in scaffolding use is high. As matter of statistics maintained by the United States Department of Labor and the Occupational Safety & Health Administration (OSHA) scaffolding-related injuries approximate 4500 each year. The scaffold-related injuries in the mix include falls that result in fractured bones, electrical shock, spinal cord injuries, brain injuries and death. In 2008 68 individuals died in scaffold accidents.
The scaffolds come in several types. There are supported scaffolds that are assembled from the ground up to the level or height where workers are designed to perform their tasks. There are scaffolds that are suspended or hang from wire supports or ropes. Then there are aerial scaffolds such as those that are used by window washers. These scaffolds are raised and lowered as the workers move from different heights.
Consider that scaffolding accidents that result in serious injuries occur because they are designed, manufactured or assembled improperly and defectively. Many accidents occur because there is a lack of hand rails, loose or defective rails, deficient warning signage, improper or unsafe fall protection, unsafe hoists, unsafe ladders, inadequate planking or decking on the scaffold or insufficient safety training.
Scaffolding accidents are too often preventable by following simple safety rules. The workplaces where scaffolds are typically found, like construction sites, are loaded with potential for worker injury from falls, fires, explosions and electrocution. The scaffold is used in order to allow workers to perform their duties at higher elevations. According to OSHA, construction work utilizes scaffolding so widely that about 65% of its workers are on and off the site's scaffolding structures during the construction of any given project.
Kreisman Law Offices represented a painter who fell when the scaffold he was using to finish painting the side of a house collapsed. His fall caused a severe, multiple fracture of his low leg; both fibula and tibia were splintered. That case was resolved against the scaffold provider after trial. In another case our client, a roofer fell from the scaffold at high off the ground and fractured his ankle and suffered other serious injuries when he fell. The lawsuit claimed that the subcontractor who supplied the scaffold was negligent in that it supplied unsafe and defective fall protection equipment to our client. That case settled after a daylong mediation session with multiple defendants.
For over 40 years, Kreisman Law Offices has represented construction workers involved in a variety of scaffolding accidents, whether as a result of poor scaffolding construction, improper erection and assembling of the scaffolding, or because of unsafe planking or lack of railings.
If you or someone you love has been injured in a scaffolding accident, please call us for an immediate free consultation. Chicago's Kreisman Law Offices provides the best possible services to our clients and achieves unsurpassed results. Please call us 24 hours a day at 312.346.0045 or toll free 800.583.8002 for a free and immediate consultation, or complete a contact form online.