Pedestrian Accidents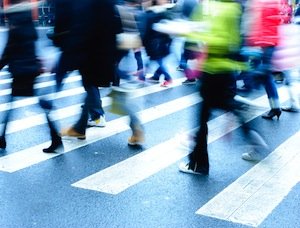 According to national statistics, a pedestrian is injured by a motor vehicle every 8 minutes in the United States. One pedestrian dies as a result of injuries from a motor vehicle every 111 minutes. About 5,000 pedestrians die in the United States each year from these types of accidents. There are more pedestrian deaths in urban areas than in rural areas. Most often the injuries and deaths to pedestrians are caused by driver negligence. The most common are:
Driver chooses not to yield the right of way to a pedestrian in a crosswalk;
Driver chooses not to stop at a stoplight or stop sign or disregards a traffic control;
Driver chooses not to pay attention or is focused on a cell phone, radio or passenger;
Driver disobeys speed limits.
Just in the year 2008, 69,000 pedestrians were hurt after being struck by a motor vehicle. Where a pedestrian is killed by a motor vehicle, 48% of those have a connection to alcohol use by either a driver or a pedestrian.
Given there are so many pedestrian accidents involving cars, trucks, bicycles, trains and motorcycles, the responsibility of the one at fault tends to point at a driver of the vehicle rather than faulting the pedestrian. However, clearly that is not always the case. Pedestrians have been found to be at fault when walking into a street between parked cars, or walking or running into a street, road or highway where it is either unsafe to cross or where there are controls warning against walking such as at a railway crossing or when a pedestrian walks outside of a designated and marked crosswalk.
Whether the pedestrian or the motor vehicle operator is at fault or negligent may be considered based on local and/or state law. In the common law, a person is said to be negligent if he or she has acted in a way that was deemed to be a failure to act with reasonable care for the safety of others where there is a legal duty to act, like obeying a traffic sign. In short, negligence is when a person acts in such a way where there is a duty to act in a certain reasonable fashion, that duty is breached by acting in a different way that is deemed to violate that duty of care and that particular act or omission to act causes harm, injury or death to another.
So the questions in a pedestrian injury case are many but could include some of these; Was the driver of the motor vehicle that injured the pedestrian negligent by speeding, choosing not to obey a traffic signal or traffic light, failing to stop when the pedestrian is in the crosswalk or has the right to pass? There are severe cases of alcohol use, speeding, leaving the scene of a pedestrian injury where the driver has not only acted unreasonably, but these acts may be criminal giving rise to an arrest with criminal charges that may include prison.
Kreisman Law offices handled a horrific case where our client was critically injured by a drunk driver who left the scene after striking and nearly killing our client who was a lawful pedestrian. The driver was charged with a series of traffic violations one of which carried a prison sentence. During the course of the case, the deposition of this man was taken at the prison where he was serving time for drunk driving that caused the near death of a pedestrian. We had handled other cases where there has been a pedestrian death caused by an impaired driver.
Most parents warn children to look both ways before crossing a street. That's excellent advice even for adults. In Chicago where bicycles are widely used, it is important to look both ways, not just for cars and trucks but for speeding or hurrying bicyclists, bike messengers and the casual bike rider who may be proceeding on a one-way street. Caution is always the best way to cross a street.
Kreisman Law Offices has been handling pedestrian accident cases for more than 40 years. Kreisman Law Offices has prevailed in trials and settlements in Chicago and has successfully settled cases for their severely injured clients over these many years.
If you or someone you love has been injured or killed in a pedestrian accident, please call us for an immediate free consultation. With our years of experience and trying and settling pedestrian accident cases, Kreisman Law Offices provides the best possible services to our clients and have achieved unsurpassed results. Please call us 24 hours a day at 312.346.0045 or toll free at 800.583.8002 for a free and immediate consultation, or complete a contact form online.