Train Accidents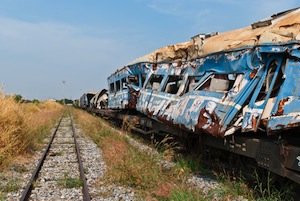 If you live in the Chicago area, you've seen the headlines many times: Train Collides with Vehicle; Two Killed. Car-train accidents happen all too frequently in Chicago, and many of the accidents stem from the fact that train travel through the area is very heavy.
Indeed,six of the nation's seven biggest railroads pass through the City of Chicago. That's a quarter of all rail traffic in the nation. Nearly half of what is known as intermodal rail traffic -- those big steel boxes that can be carried aboard ships, trains or trucks -- rolls through Chicago.
Chicago-area residents are so used to seeing trains that they can be heedless, even careless, when it comes to driving near them. For example, there was the woman killed by a Metra train when she tried to drive around a railroad gate while rushing to get her two children to school on a morning in October 2012.
All too often, however, an accident can occur that is caused by the train and not a car driver or pedestrian. In July 2012, a lawyer and his wife were planning to celebrate the Fourth of July over dinner and were killed when a suburban Chicago railroad bridge collapsed. Twenty-eight train cars piled up on a bridge, causing it to collapse over the road where they were driving. Tons of coal crashed onto the couple's vehicle.
Many accidents involving pedestrians, cars or trucks are preventable. These accidents are caused by malfunctions in crossing gates, inattentive conductors, brakemen or railroad negligence.
According to the U.S. Department of Transportation, there are about 5,800 car-train crashes every year in the United States, resulting in 600 deaths and 2,300 injuries. Most of these accidents occur at railroad crossings - many with faulty or inadequate safety devices.
And while a tragedy can happen in an instant, its effects are far-reaching. A train crash can affect your health, work, or even result in death. If you were in a car crash, the party who caused the crash would be responsible for paying your bills and the damages you suffered. The same is true in a train crash, except the responsible party is usually a train company. When a train crash is caused by a train company's employee's or agent's negligence or error, the company owner is responsible for covering your associated medical bills, lost wages, permanent injuries, disability and pain and suffering.
An experienced Chicago train accident attorney from Kreisman Law Offices can assess your case and seek the maximum compensation on your behalf from the railroad company. With more than 40 years of Chicago trial experience, Kreisman Law Offices has the knowledge and resources to obtain justice in Illinois for you.
If you, or someone you know, have been injured on or near a railroad line or by a train, Kreisman Law Offices is ready to take on your case. We have handled a wide range of Illinois railroad crossing and railroad cases over the years. Please call us at 312.346.0045 for a free and immediate consultation, or complete a contact form online.