Elevator Accidents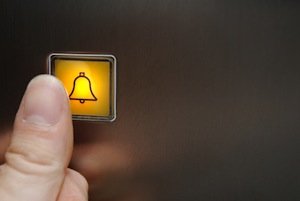 The concept of elevators was first introduced at the Chicago World's Fair of 1893. Since that time, the movement of passengers and elevators has expanded at the rate of about 18 billion passenger trips each year throughout the United States. Chicago, being the birthplace of elevators, has more than 26,000 elevators in the area. Although elevator accidents seem to be rare, they do happen and injuries can be severe.
Elevators are so common in Chicago's buildings, that most people coming in and out do not give them a second thought. Elevators are more than a convenience. They transport people and material up and down many storied buildings. They elevators are varied but always they contain mechanical and electrical equipment that from time to time fail causing harm to users.
In the United States the government reports an estimate of 27 deaths each year associated with elevator failures. Another 11,000 individuals are injured in elevator related accidents. What's more is that elevator technicians and repair persons are dying at an alarming rate of about 244 each year. In sum, as many as 30 individuals are either injured or killed in elevator mishaps each day.
Elevators are found just about everywhere including, shopping malls, sports arenas, airports, apartment and condominium buildings, hospitals, hotels, government buildings, warehouses, storage facilities and many other structures. Chicago elevators and governed by municipal law. Inspections are required on a regular basis to check on safety and maintenance requirements.
In spite of the best intentions, elevators fail that serious injuries or deaths to occupants. Some of the most common causes of elevator injuries include, but are not limited to sudden and abrupt stops between floors, elevator doors not opening or closing as expected, elevators not leveling when stopped at a floor which may cause passengers of the elevator to trip and fall out of the elevator car, elevators becoming inoperable between floors trapping passengers and electrical failures stop elevator cars. All of these are potential dangers to elevator users.
In cases where elevators in operation have cause injury or death to our clients, the parties responsible may include the elevator maker and manufacturer or component part manufacturer, the maintenance or servicing company(s), and the property management company or owner of the building where the incident occurred.
Depending on the injuries or wrongful death of an elevator passenger, damages recoverable would be medical bills, past and future should additional medical care be needed, lost time, lost earnings past and in the future, pain and suffering experienced and future pain and suffering, loss of normal life and disfigurement. Of course, damages are unique to each individual and each case and are dependent on the injury and required medical treatment, prognosis and disability caused by the injuries. Robert Kreisman of Kreisman Law Offices has been handling elevator accidents due to property owner or manufacturing or maintenance company neglect or negligence for more than 40 years. Elevator accidents can happen in office buildings, hotels, work places, warehouses, storage facilities, loading docks and other common areas. The owners of elevators are considered common carriers, which the law requires that they be held to a higher degree of safety and care.
Elevator accidents can occur because of door malfunctions, sudden stopping between floors, sudden acceleration or deceleration of the elevator car, misleveling, uneven stopping, electrical failures, electrocution and defective interlock circuits, to name a few.
If you or someone you know has been injured in an elevator accident, Kreisman Law Offices has more than 40 years of experience in successfully handling elevator and escalator accidents. Responsibility for injury in an elevator or escalator accident would be the responsibility of the property owner, the property manager, the elevator manufacturer, the elevator maintenance company or a part manufacturer or maintenance company. Investigation of these accidents is crucial. If you or someone you know has been injured, call immediately to Kreisman Law Offices for a free and immediate consultation.
Chicago-based Kreisman Law Offices may be contacted 24 hours a day, seven days a week, at 312.346.0045 or toll free 800.583.8002 for a free and immediate consultation, or complete a contact form online. Kreisman Law Offices is located at 55 West Monroe St., Suite 3700, Chicago, Illinois at the corners of Dearborn and Monroe Streets. Easy access on Chicago's highways and public transportation is available.