Traumatic Brain Injury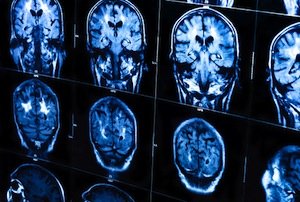 Traumatic brain injury, known as TBI, occurs when trauma causes damage to the brain. TBI can be caused by vehicular accidents or during the birth process. Some people suffer brain injuries while on the job, particularly in high-risk work such as construction. Brain injuries are also caused by falls.
A brain injury can be life altering. It is imperative that you have experienced lawyers on your side. With over 40 years of handling brain injury cases, Kreisman Law Offices has the know-how and resources to aggressively handle a brain injury claim and obtain justice for you and your injured loved one. Contact our offices at 312.346.0045 or 800.583.8002 for an immediate free consultation, or fill out a contact form.
It is important to recognize the symptoms of a brain injury, which range from mild to severe. A person with only mild TBI may remain conscious or may experience a loss of consciousness for a few seconds or minutes. Other symptoms of mild TBI include dizziness, headache, lightheadedness, blurry vision, a ringing in the ears or a bad taste in the mouth. A victim of mild TBI might also experience fatigue, difficulty sleeping and mood swings. He or she might have trouble with memory, concentration, attention or thinking. A person with a moderate or severe TBI may exhibit similar symptoms, but also may have a persistent headache and repeated vomiting or nausea. If the brain injury is severe, the victim may have convulsions or seizures. He or she might be unable to wake up. The pupils of the eyes are frequently dilated. The speech becomes slurred while the hands and feet often feel numb. A victim often seems uncoordinated; he or she might be confused, restless or agitated and unable to calm down.
Anyone who suffers a moderate or severe TBI should obtain medical attention as quickly as possible. Emergency medical personnel will try to assess the extent of the injury using the Glasgow Coma Scale -- a standardized, 15-point test that uses three measures - eye opening, best motor response, and best verbal response. They will also work to stabilize the TBI victim. The first step after a brain injury is to see that the victim receives adequate oxygen supply to the brain and the rest of the body. The victim's blood pressure must be monitored.
Imaging tests will be performed to determine the extent of the injuries or trauma. Skull and neck X-rays will be done to check for bone fractures or spinal injuries. A computed tomography (CT) scan is often performed. Hospitalization – sometimes extended -- is needed in cases of severe injury.
Following hospitalization, victims of TBI undergo rehabilitation. This involves individually tailored physical therapy, occupational therapy, speech therapy and psychology/psychiatry. Often the TBI patient will need extensive social support in the form of support groups and individual therapy. This need for social support will be felt as well by the patient's primary caregivers. Unfortunately, following the TBI there is little that can be done by medical personnel to reverse the injury and repair damaged brain cells.
According to the National Institutes of Health, disabilities resulting from a TBI depend upon the severity of the injury, the location of the injury and the age and general health of the individual. Some victims have problems with thinking and reasoning; they often suffer memory loss. Many lose their sense of taste, hearing or sight. Many have difficulties communicating. Their mental health deteriorates; some exhibit anger and even aggression, as well as depression and anxiety. Those with very serious head injuries are left in a coma, stupor or are unresponsive to any stimuli. In several settings the patient may enter what is known as a vegetative state in which they are unconscious and unaware of their surroundings. A person who is in this kind of state for more than a month is said to be in a persistent vegetative state. Some persons develop Alzheimer's disease, dementia or Parkinson's disease.
Medical personnel can contribute or even cause a brain injury. Medical negligence that could cause or contribute to brain injuries include:
Anesthesia errors, such as over-administering certain drugs.
The delay of proper intubation, so that the patient has inadequate oxygen for extended periods.
Inattention to monitoring, which can lead to a delay in recognizing oxygen deprivation.
A delay in performing a Cesarean section (c-section) of a baby whose oxygen supply has been cut off during the birth process.
Medical malpractice that can cause or lead to traumatic brain injury includes:
A brain tumor that goes undiagnosed and untreated.
Intubating a patient who doesn't receive enough oxygen or who is extubated in error.
Anesthesiology errors during surgery.
Failure to monitor vital signs and patient status during any medical procedure.
An errant surgical incision into the brain.