Paralysis Injuries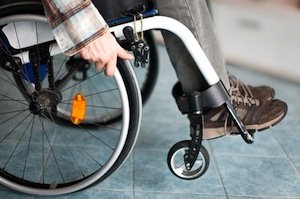 Paralysis refers to the loss of your body's muscle function and is often the result of faulty messages being passed between your brain and muscles. Paralysis of only the lower half of the body is called paraplegia, while paralysis of all four limbs, e.g. both arms and legs, is called quadriplegia.
Paralysis typically is caused by an injury to the spinal cord, which serves as the major line of communication between the brain and the rest of the body. Therefore, any injury to the spinal cord could result in temporary or permanent paralysis. Traumatic injury to the upper levels of the spinal column can cause paralysis to arms and legs. Other injury to the spinal column can result in complete paralysis or quadriplegia. The majority of spinal cord injuries are caused by accidents, whether auto accidents, slip and fall injuries, or workplace injuries.
Injury to the spinal column can come by way of medical malpractice. For example, incorrectly administered anesthesia could injure the spinal cord, causing permanent damage to the spinal column. Surgeries on the brain or spinal column can also result in paralysis if not done correctly.
Paralysis can also be the result of traumatic brain injury or strokes. Like spinal cord injuries, traumatic brain injuries can also be caused by different types of accidents, workplace injuries, or medical malpractice. Traumatic or severe injury to the brain leads to paralysis when there is a breakdown in the communication from the brain to the body's muscles.
Paralysis can be life altering permanent condition. Therefore, it is imperative that you have experienced lawyers on your side. With more than 40 years experience handling paralysis cases, Kreisman Law Offices has the knowledge and resources to appropriately litigate your paralysis claim in order to obtain justice. Contact our offices at 312.346.0045 or 800.583.8002 for an immediate free consultation, or fill out a contact form.