Illinois Highway Construction Site Accidents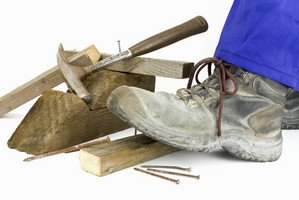 Many of Illinois' highways, roads and streets are in need of maintenance and repair. Drivers on Illinois highways will regularly encounter road construction in progress. Bridges, road resurfacing and striping are common. At the same time, the number of motor vehicles traveling across the Illinois roads and highways has increased over the years. Often times, the method of the road and highway maintenance creates hazards and dangerous conditions leading to the injuring or even killing drivers, passengers and construction workers.
Kreisman Law Offices has represented individuals and families in motor vehicle accidents and trucking accidents for more than 40 years. If you or someone you love has been injured in a highway construction project accident, please call us today at 800.583.8002 for a free consultation.
The causes of highway construction accidents are varied. Many factors have to be considered when investigating and handling highway construction accidents:
Choosing not to erect warning signs in advance of an upcoming highway construction site is a common occurrence.
Many highway construction sites are located on curbs or hills that make it difficult for drivers to slow in time to avoid highway construction workers and other slowing vehicles.
Often times, drivers fail to acknowledge the warning signs of road construction or site equipment that may be a cause of collisions endangering other vehicles, its drivers, passengers and construction site workers.
Most highway construction accidents are in areas where higher speeds are the norm. Drivers must be aware of reduced speed warnings in order to avoid the dangers of slow moving equipment, highway construction workers and other slowing vehicles.
Many times the state authority hires independent contractors to perform contract work on highway construction projects. In some cases, these independent contact companies are not familiar with and don't necessarily observe all state safety laws with respect to the highway construction project. This would present additional dangers to drivers of trucks and vehicles along Illinois highways where construction projects are ongoing.
At Kreisman Law Offices we are experienced in investigating, handling and successfully prosecuting highway construction cases throughout Illinois. If you have suffered a serious injury as a result of a highway construction crash, call Kreisman Law Offices at its Chicago office to make arrangements for advice on your legal rights. We have more than 40 years of experience.
Please call us today at 800.583.8002 or 312.346.0045 or email us at bob@robertkreisman.com.