Heart Attack Errors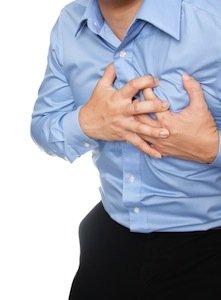 Many studies show that heart disease is the No. 1 killer in the United States. This holds true for men and women alike.
So it is vitally important to recognize the symptoms of heart attack, which differ for men and women. Among men, the signs of a heart attack include pressure, a feeling of fullness or a squeezing pain in the center of the chest that lasts for more than a few minutes. Any man who experiences chest discomfort should contact a doctor or go to an emergency department at a local hospital immediately.
What are the signs of a heart attack in women? The American Heart Association has said women may experience shortness of breath, pressure or pain in the lower chest or upper abdomen, dizziness, lightheadedness, upper back pressure or extreme fatigue. Women often feel anxious, or they experience a sense of impending doom. They feel restless, and often say they feel something is wrong. Women sometimes do not have chest pain or pain in their left arm. Often they have jaw pain. Those who do experience chest pain may feel pressure, a tight ache, a squeezing sensation or fullness in the chest. Women are less likely to believe they are having a heart attack. Instead, they may think they have the flu or something less serious. Therefore, they may be likely to delay emergency medical treatment, and this mistake can be fatal. It is important to contact a doctor or go to a hospital if you suspect you might be having a heart attack. Those who do experience chest pain may feel pressure, a tight ache, a squeezing sensation or fullness in the chest.
According to the New England Journal of Medicine, one in 50 heart attack victims are sent home by emergency room doctors. This is because there is no foolproof test to determine if a patient is having a heart attack.
Often patients are sent home from an emergency room even if they are exhibiting the signs of a heart attack. Take the example of James Pettry, an Indiana man whose story was told by the newspaper USA Today. Early one morning in 2008, his wife, Mary, found him sitting up in their bed. He was short of breath and sweating profusely. Acting quickly, Mary called 911.
Five minutes later, an ambulance arrived at their house. The paramedic who first arrived decided that Pettry was having a heart attack. He gave Pettry oxygen and aspirin and used an electrocardiogram machine to examine his heart's electrical function. Pettry was quickly taken to a local hospital.
The doctor in the emergency room disagreed with the paramedic. After running tests, he sent Pettry home nearly five hours later. The doctor said Pettry was not having a heart attack and, instead, was just experiencing anxiety.
Mr. Pettry, 74, was dead the next day. He died from severely clogged arteries while sitting in his easy chair only 24 hours after being discharged, according to an autopsy report.
As in the case of Mr. Pettry, medical errors are often responsible for misdiagnosis and death among heart attack victims. More than 1.2 million new and recurrent heart attacks are reported annually in the United States. Approximately one-third of those -- 425,000 -- result in death.
Women and younger individuals are most likely to be misdiagnosed even after presenting with typical heart attack symptoms. Among the most common mistakes is a doctor choosing not to rule out heart attack or investigate patient histories and risk factors. In some other medical error cases, even the reports are misread.
Heart attacks can cause permanent damage to the heart muscle. In referring to myocardial infarction (MI), the "myo" means muscle, "cardial" refers to the heart and "infarction" relates to death of tissue due to lack of blood supply. Heart attacks can also cause brain injury because of the interrupted blood flow to the brain.
Misdiagnosis of symptoms of heart attack can lead to devasting results, including death. Medicine is complicated, but doctors are trained from medical school through residency and beyond to rule out the most deadly of possible presenting symptoms. An EKG test, the patient's history, interpretation of the diagnostic findings and the consultation with other physicians are all important options in fully analyzing a patient presenting with symptoms of heart attack.
Heart attack errors leading to injury or death are devastating. It is imperative that you have experienced lawyers on your side. With over 40 years of experience in handling heart attack errors cases, the Chicago medical malpractice lawyers at Kreisman Law Offices have the know-how and resources to aggressively handle your medical negligence claim and obtain justice for you and your family. We are proud of the successful, personal and compassionate service we have given our many clients over these three and half decades. Call or visit our Chicago office at 312.346.0045 or 800.583.8002 or by email at bob@robertkreisman.com for an immediate free consultation, or fill out our contact form. We're conveniently located in Chicago's Loop at 55 West Monroe Street, Suite 3700, Chicago, IL 60603. The southeast corner of Monroe and Dearborn Streets.