DePuy Pinnacle Hip Implant Failures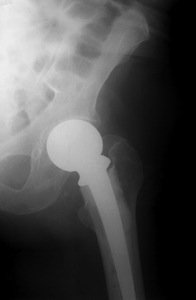 Although there has been no recall of the Johnson & Johnson DePuy Pinnacle hip device, reported problems have been made, including severe inflammatory reactions or metal poisoning due to high levels of cobalt and chromium found in the blood of implant patients. DePuy voluntarily recalled its hip implant in 2010, which included the ASR Hip System. It was claimed that the recall was prompted because of the need for a second hip procedure surgery, called a revision surgery. What has been reported is that the metal-on-metal hip devices release microscopic foreign particles into the patient's body causing metal poisoning. In addition, some patients have complained of difficulty walking with pain and swelling in the hip area. The company says that about 93,000 ASR devices have been implanted worldwide.
DePuy Orthopaedics has reported receiving many complaints regarding the metal-on-metal Pinnacle Acetabular Cup System. DePuy has stated in press releases that the product is safe. On the other hand, there have been lawsuits filed that allege that the DePuy company and its affiliates have been concealing the defect and has misrepresented to the public that their hip replacement devices are safe.
Federal litigation regarding injuries to hip replacement patients is pending in the U.S. District Court for the Northern District of Texas. Early in 2015 10 lawsuits were selected to be potential bellwether candidates for trial. The many federal cases involving DePuy hip replacements have been titled the DePuy Orthopaedics Inc. Pinnacle Hip Impant Product Liability Multidistrict Litigation docket. These cases, whose number may be more than 5,400, are lodged in the multidistrict litigation pool in the Northern District of Texas for purposes of discovery and for of the more significant injury cases, for bellwether trials. There was the first trial set for September 2014.
In the meantime, Johnson & Johnson is exploring a global settlement with claimants for those affected by the Pinnacle implanted hip. This development is interesting in that Johnson & Johnson has not recalled this product and continues to sell it worldwide.
DePuy produces and sells 200 different products, but the three that have caused the most in the way of problems, failures and injuries to patients are the Pinnacle Hip Replacement System, the ASR XL Acetabular System total hip replacement and the ASR Hip Resurfacing System, all designed to replace the hips of younger patients. These hip replacements were to be more reliable giving a patient flexibility and near full range of motion after the replacement surgery.
The metal-on-metal hip replacement devices were thought to be more reliable and less likely to fail as some other earlier hip implant products had been. But instead, the metal-on-metal DePuy hip implants had even more reports of failure and maybe worse yet increased occurrences of metallosis, infection, dislocation and immobility. Some of Johnson & Johnson's DePuy hip replacement products were discontinued, still not recalled.
DePuy has been offering patients, but really the orthopedic surgeons' options for the ball-and-socket surfaces including, ceramic-on-polyethylene, ceramic-on-ceramic, metal-on-polyethylene, metal-on-metal and ceramic-on-metal. With these different surfaces available the doctor and staff would be able to customize the hip socket that best suits the patient's needs, size, age and mobility level. With durable materials, the idea was that the failure rates would be significantly reduced, allowing patients to comfortably withstand long-term use without the need for revisions or replacements. It was not long before a published study on the failure rate of the Pinnacle metal-on-metal system was shown to be alarmingly high and in addition, doctors doing revisions found patients having cloudy fluid pockets in the hip as well as a breakdown of tissue or necrosis in the area of the implant as well as ruptured tendons.
DePuy has recalled two of its ASR hip systems. The two recalled in 2010 were the ASR XL-System and the DePuy ASR Hip Resurfacing System.
It was discovered that In the years 2007 through 2010 Johnson & Johnson ,DePuy and hip and knee replacement manufacturers, Biomet, and Zimmer paid as many as 1,000 orthopedic surgeons in the United States for consulting or received a royalty payment on products they were said to have assisted in development. In fact the number of payments to doctors by these replacement companies increased in 2009 through 2010 as did the percentage of payments made to surgeons with academic associations.
The hip implant recall attorney Robert D. Kreisman and Kreisman Law Offices, have more than 40 years of experience in medical device defect cases. If you or someone you know has been injured or believes they have been injured by a DePuy or a Johnson & Johnson or another product maker of joint implant devices, please call for a free consultation. You may be able to file a lawsuit, recover compensation for medical bills, pain and suffering and other damages resulting from difficulties associated with hip implants. There is no cost, no obligation for a case review. Contact our Chicago office at 312.346.0045 or 800.583.8002 or by email at bob@robertkreisman.com for an immediate free consultation, or fill out our contact form.