Automotive Product Liability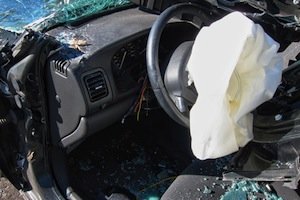 In the case of an accident that may be caused by an automobile defect, attorneys at Kreisman Law Offices have the know-how to evaluate your case, investigate the facts, hire the most experienced automotive experts, including consultants, engineers and accident reconstruction experts all over the United States. Kreisman Law Offices has the experience to investigate post-collision scenes and evaluate the condition of vehicles.
Airbags, seatbelts and restraint system defects
Fires
Roof crush
Seatback collapse
15 passenger vans
Conversion vans
Injuries and death are often associated with automobile defects. There are many types and kinds of possible automotive defect cases. For example, rollover cases could involve the vehicle's defect related to its weight distribution. That may mean that some vehicles tend to be designed "top-heavy", which means that the center of its gravity is situated in such a way as to make the vehicle much more likely to tip or roll over under some conditions such as uneven terrain. The rollover of vehicles has been widespread. Some of the converted vans that are typically used to transport travelers short distances have been known to be the kind of vehicle prone to rollovers.
One of the most devastating effects of a rollover accident is the crushing of the vehicle's roofing structure. Some vehicles have been designed in such a way that the roofs crush in very easily on a rollover. This means that the passengers of a vehicle with an unsafe roof structure and design are likely to suffer catastrophic injuries or death. Neck and back injuries are common in rollover cases where the vehicle's roof crushes in. We recently handled a case where a 15 person conversion van carrying a group of friends to a reunion, rolled over on an Illinois highway killing several of the occupants, including our client. The family hired our firm to handle this automotive product defect case for the wrongful death of this man. He left behind a wife and two adult children. The case settled for a fair and reasonable sum of money with auto manufacturer before the onset of the jury trial.
Another automotive defect that has given rise to litigation around the country and in Illinois is advent of a fuel-fed fire after an automotive or truck collision. The fuel-fed fire can be caused by a defectively designed fuel line system. In one case Kreisman Law Offices was involved in, a General Motors vehicle was involved in a violent head-on crash with another car. In that case of the family of four who were in the vehicle, all survived the collision except for the driver, the father and husband of the family. But the wife and mother and her two young daughters, both back seat passengers survived the crash, but tragically died in the ensuing undercarriage fire that erupted due to the fracture fuel line. A passerby tried desperately to free the woman and her children from the fire, but it rapidly became too intense and all perished in the fire. The lawsuit filed in Cook County, Illinois came to an end when the automotive manufacturer agreed to settle the case before the jury returned its verdict. That case depended heavily on the experts engaged by counsel for the family to prove to the jury's satisfaction that the fuel line design was defective and deadly when the vehicle was exposed to a head-on collision.
The invention and wide use of airbags in vehicles has made an enormous difference in the survival rate of car and truck crashes around the country. There was a time when airbags were more of a novelty installed in only some vehicles. Today airbags are standard equipment in many domestic and foreign made vehicles. But airbags have been known to cause injury or death in some defect cases. Deaths and serious injuries have occurred when the airbags in place have essentially exploded on activation, injuring drivers and passengers. The airbag is designed to activate on an impact severe enough to otherwise cause injury or death to the driver and passengers. Most times airbags deploy successfully, but sometimes they fail which is also a known defect to arise on occasion.
If you or someone you know has been injured or killed as the result of an automotive defect, contact our experienced lawyers and speak to one of our automotive product defect attorneys as soon as possible.
With over 40 years of experience in handling automobile product defect cases, the lawyers at Kreisman Law Offices have the know-how and resources to aggressively handle your claim and obtain justice for you and your family. Contact our Chicago office at 312.346.0045 or 800.583.8002 or by email at bob@robertkreisman.com for an immediate free consultation, or fill out our contact form.