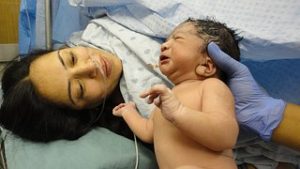 Llulin Cruz, 31, was admitted to St. Barnabas Hospital to deliver her first child. The attending obstetrician was Dr. Michael Ihemaguba, who performed a midline episiotomy after he delivered the baby's head. Dr. Ihemaguba then told Cruz to continue pushing. This resulted in a fourth-degree laceration, which Dr. Ihemaguba then repaired. The next day, Cruz complained of vaginal gas and Dr. Ihemaguba told her this would improve over time.
About 5 months later, Cruz became pregnant with her second child. She consulted midwife Gloria Murray for prenatal care and told her that she had fecal-smelling vaginal discharge. Murray called Dr. Ihemaguba and told him about Cruz's symptoms. Dr. Ihemaguba instructed Murray to do nothing, but he told her to send Cruz to him after the baby was born.
After the vaginal delivery, which the midwife performed, Cruz was diagnosed as having a rectal-vaginal fistula. Cruz required 13 surgeries during the next 3 years, including an ileostomy and a "pulled down" procedure involving removal of her rectum. Cruz has lost control of her bowel function and is no longer able to engage in sexual relations. As she ages, her medical condition is expected to worsen, necessitating a permanent colostomy.